Weight loss with BHRT and liposuction helps with obesity and overweight, if excess kilos are the result of hormonal imbalances or a fat distribution disorder. The body weight can be lowered sustainably through targeted liposuction and therapy with bioidentical hormones when combined with changes of lifestyle habits.
At a Glance
Preliminary examinations: Extensive checks on hormonal status, further examinations depending on the patient's state of health
Procedure: Medical examination and anamnesis, evaluation of preliminary findings, development of a therapy concept (liposuction prior to onset of the actual weight loss therapy as needed), ongoing entries into diet logbook (for weight loss only), regular check-ups, check-up blood tests every every 3 cycles (1 cycle = 28 days)
Duration of therapy: Individually dependent, mostly 3 to 6 cycles (1 cycle = 28 days)
Check-ups: To be arranged on an individual basis
Foreign patients: Check-up blood tests can be carried out in the home country
Overweight – Lifestyle Disease No. 1
Overweight is a serious health problem in the Western world and is often perceived by those who fall into this category as unaesthetic due to the ideal of beauty propagated in the media. Social exclusion, isolation and a great mental distress can be the result.
In the medical world a person is deemed overweight when the body weight and body fat percentage is higher than a certain standard scale. The basis for this assessment is an index of body mass, the so-called Body Mass Index (BMI).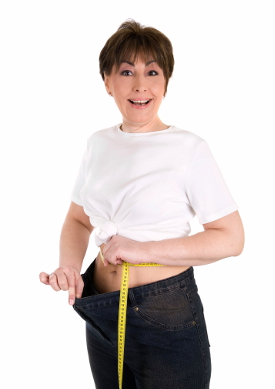 The World Health Organization (WHO) defines being overweight as a BMI of at least 25, and obesity as a BMI of at least 30 (as of 2008).
Category
BMI
Risk of secondary diseases of overweight
Underweight
< 18,5
low
Normal weight
18,5 to 25
average
Pre obese (overweight)
Obese class I
Obese class II
Obese class III
25 to 30
30 to 35
35 to 40
≥ 40
slightly increased
increased
high
very high
Causes of Overweight and Secondary Diseases
Significant main causes of obesity are a poor diet and lack of exercise: Especially ready meals and fast food, prepackaged desserts and sweets, soft drinks and alcohol may all lead to comfortable eating habits. Sedentary activities in professional life and leisure (sitting in front of the computer and the TV) reduce energy consumption. Genetic and psychological factors also come into play.
The consequences of being overweight can be fatal:
The risk of suffering from a variety of debilitating diseases increases considerably for overweight people. Medical problems such as cardiovascular diseases, diabetes mellitus, endocrine and metabolic disorders, joint damage, reduced fertility and even infertility are widespread amongst overweight patients
Feelings of exclusion can be a psychosocial effect of such ailments.
Treatment Options
Different measures are required depending on the extent of excess weight. As part of our medically-assisted weight loss program we try to help those affected to achieve their desired weight. We exclusively treat adults.
Firstly your health and hormonal status are examined, including a physical examination, laboratory tests, analysis of your eating habits and special anamnesis that leads to conclusions on your health.
Then we create a treatment plan according to your individual needs. The treatment plan may range from dietary measures and changes of lifestyle habits to an extensive drug treatment. However, we do not offer surgical treatment (gastric band/bariatric surgery). Usually a change in one's lifestyle through diet and an increase in physical activity is however essential.
Patients who suffer from being extremely overweight (obesity, see table above) often require more far-reaching treatments with accompanying psychotherapeutic care that is not offered in our program.
The upmost involvement of the patient is essential for therapeutic success.
Medically-assisted weight loss therapies usually last either 3 or 6 cycles (1 cycle = 28 days). Extensions and repetitions are set individually as needed. Special treatment programs exist for certain therapeutic goals.